Programme
Scientific Committee
The Scientific Committee for EARIE 2015 is chaired by Michelle Sovinsky (University of Mannheim).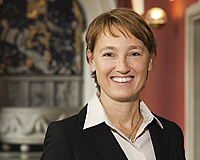 She is co-editor at the International Journal of Industrial Organization and member of the Editorial Panel of Economic Policy. She is also a research fellow of the CEPR, the University of Chicago Becker Friedman Institute and the Economics Network for Competition and Regulation. Before chairing the Scientific Committee for EARIE 2015, she has been on the scientific panel for the EARIE and EEA meetings.
Her research focuses on using game-theoretic modelling combined with empirical analysis to examine policy issues in industrial organization and applied health. Her research has implications for the design of public health policy and antitrust/competition policy and has been published in Econometrica, the International Economic Review and the Journal of Human Resources.
If you have questions concerning the scientific programme, please do not hesitate to contact her: michelle.sovinsky@econ.uzh.ch.
The members of the EARIE 2015 Scientific Committee are:
Victor Aguirregabiria (U Toronto)
Rabah Amir (Henry B. Tipple College of Business)
Simon Peter Anderson (U Virginia)
John Asker (UCLA)
Heski Bar-Isaac (U Toronto)
Pedro Pita Barros (Nova Lisbon)
Michael Baye (Kelley School of Business)
Paul Belleflamme (Université Catholique de Louvain)
Gary Biglaiser (U North Carolina)
Francis Bloch (Paris School of Economics)
Jan Boone (Tilburg U)
Bart J. Bronnenberg (Tilburg U)
Luis Cabral (NYU Stern)
Giacomo Calzolari (U Bologna)
Carlo Cambini (Florence School of Regulation)
Guillermo Caruana (CEMFI)
Bruno Cassiman (IESE)
Federico Ciliberto (U Virginia)
Sofronis Clerides (U Cyprus)
Pascal Guy Courty (U Victoria)
Gregory S Crawford (U Zurich)
Catherine Clark de Fontenay (Melbourne Business School)
Jan De Loecker (Princeton U)
Vincenzo Denicolo (U Leicester)
Pierre Dubois (Toulouse School of Economics)
Liran Einav (Stanford U)
Alon Eizenberg (Hebrew U)
Winand Emons (U Bern)
Susanna Esteban (Barcelona Graduate School of Economics)
Natalia Fabra (Carlos III Madrid)
Rosa Ferrer (Universitat Pompeu Fabra)
Arthur Fishman (Bar-Ilan U)
Chiara Fumagalli (Bocconi U)
Philippe Gagnepain (PSE)
Juanjo Ganuza (Universitat Pompeu Fabra)
Alessandro Gavazza (LSE)
Thomas Paul Gehrig (U Vienna)
David Genesove (Hebrew U)
Jacob Goeree (University of Technology Sydney)
Dietmar Harhoff (Max-Planck Munich)
Paul Heidhues (ESMT)
Steffen Hoernig (Nova Lisbon)
Elisabetta Iossa (Università degli Studi di Roma)
Maarten Janssen (U Vienna)
Doh-Shin Jeon (U Toulouse)
Ulrich Kaiser (U Zurich)
Myrto Kalouptsidi (Princeton U)
Tobias Kretschmer (LMU Munich)
Saul Lach (The Hebrew U of Jerusalem)
Patrick Legros (ECARES)
Gerard Llobet (CEMFI)
Inés Macho-Stadler (Barcelona Graduate School of Economics)
Robin Mason (U Southampton)
Christian Michel (Universitat Pompeu Fabra)
Jeanine Miklos-Thal (U Rochester)
Jose L. Moraga-Gonzalez (VU U Amsterdam)
David P Myatt (LBS)
Kathleen Nosal (U Mannheim)
Hans-Theo Normann (DICE Düsseldorf)
Carlos Esteban Noton (U California)
Marco Ottaviani (Bocconi U)
Martin Peitz (U Mannheim)
Pedro Pereira (CEFAGE)
Helena Perrone (Universitat Pompeu Fabra)
Emmanuel Petrakis (U Crete)
Andrea Pozzi (Einaudi Institute for Economics and Finance)
Mar Reguant (Stanford U)
Regis Renault (Université Paris Dauphine)
Patrick Rey (Toulouse School of Economics)
Bradley J. Ruffle (Wilfrid Laurier U)
Jozsef Sakovics (The U of Edinburgh)
Carlos Santos (Nova Lisbon)
Pasquale Schiraldi (LSE)
Fabiano Schivardi (Luiss U)
Philipp Schmidt-Dengler (U Vienna)
Armin Schmutzler (U Zurich)
Christian Schultz (U Copenhagen)
Nicolas Schutz (U Mannheim)
Howard William Smith (Oxford U)
Michelle Sovinsky (U Zurich)
Giancarlo Spagnolo (SITE)
Yossi Spiegel (Tel Aviv U)
Frode Steen (NHH)
John Sutton (LSE)
Otto Toivanen (KU Leuven)
Catherine Tucker (MIT)
Hannes Ullrich(U Zurich)
Tommaso Valletti (Imperial College)
Johannes Van Biesebroeck (KU Leuven)
Frank Verboven (KU Leuven)
Nikos Vettas (Athens U of Economics and Business)
Reinhilde Veugelers (KU Leuven)
Sofia Villas-Boas (U California, Berkeley)
Matthijs R Wildenbeest (Kelley School of Business)
Julian Wright (NU Singapore)
Yaron Yehezkel (Tel Aviv U)
Christine Zulehner (DICE Düsseldorf)